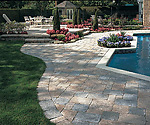 Dreamscape Synthetic Grass & Pavers, Inc is headquartered in Panama City, FL. Our mission is to provide professional sales, outstanding installation and prompt service to homeowners, designers, contractors, and property managers all over Northern Florida. Because of our passion for pavers, we strive for excellence and warranty our work from the ground up. We believe that as we continue to require our customers- overwhelming approval of our installation; Dreamscape Synthetic Grass & Pavers, Inc will grow to become a dynamic leader in an expanding industry.

We understand how important trust is in a contractor/client relationship. The founder of the company, Daniel Brooks, has a track record extending over twenty years. He started in the early 80-s by introducing Coastal Carpet Cleaners to the area which has been voted ?Best of BayŽ the past seven out of nine years. He has a record of integrity, expertise, and customer satisfaction, and has now dedicated himself to becoming a leader in the field of paver installation and stone work. Since opening he has joined forces with an expert in the field of concrete, Jason Henry, and together, they can cater a customized solution to fit your needs.

Please call for a free consultation, estimate and references.
Or click here to request a free online estimate.